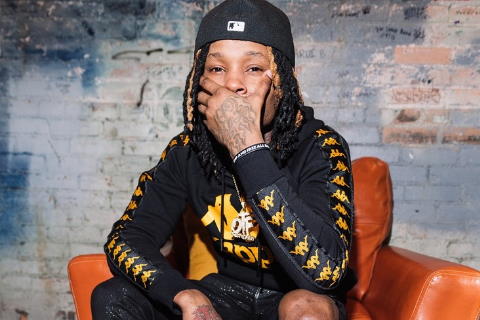 King Von - Grandson For President (Remix)
---
Lyrics:
Grandson for president
Be cool or get your bitch ass trunked, ain't talkin' elephant
I been killin' shit for too long, I'm like a veteran
Wooski got shot, now he takin' medicine, but anyway
GDK, I be in them buildings where them killers stay
Vernon, that's a one way, hop out, sparkin', broad day
Try to run, get caught, that bitch got hit, that ho was in the way
OBlock, we run the city, rest in peace big A
SnitchK, eight Ks, great things, great aim
Fuck fame, she don't even like me, she just like my chain
OTF, she don't even know me, she just know my name
King Von, still in the WIIIC, some shit'll never change
Nigga we is not the same, I'm up in a different lane
All these unsolved murders, who you think they tryna blame
I'm bustin' if you clutchin', give a fuck if you my cousin
Die Y for Young Money, I'm screamin' out who want it, "Boom, boom"
These hoes be bussin', they bussin' like my banger bust
So I don't cuff 'em, I just fuck 'em, rearrange their guts
Lil' boy, I'm sneaky, I'm prolly in your granny bushes
[lyrics was taken from http://www.lyrics.my/artists/king-von/lyrics/grandson-for-president-remix]
You come outside, they call offside because your ass gon' get rushed
Up in the trenches, we don't play that
He think he safe, but we know where he stay at
Clean the scene with Ajax
Latex, bleach all on my hands, he on that poster
Ask me, "Have I seen that boy?" No, I don't know him
Me and Durk both champions, happy as I ever been
On the stage in Philly with Jeezy, Meek and no milli
The chef up in the kitchen, like, "What the fuck is a Philly?"
I'm like, "I'm tryna kill all the opps, don't think y'all feel me"
Don't wanna play with me, I got ninety shots up in this car
These killers stay with me, I jumped out and hawked that nigga down
Basically, hottest rapper slangin' heat
I could kill you on the beat or kill your ass up in the streets
Grandson for president
Be cool or get your bitch ass trunked, ain't talkin' elephant
I been killin' shit for too long, I'm like a veteran
Wooski got shot, now he takin' medicine, but anyway
GDK, I be in them buildings where them killers stay
Vernon, that's a one way, hop out, sparkin', broad day
Try to run, get caught, that bitch got hit, that ho was in the way
O'Block, we run the city, rest in peace big A