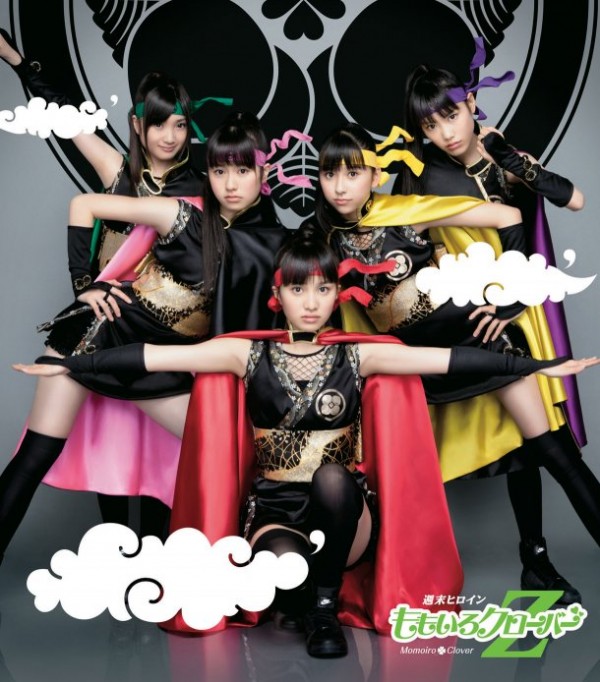 ---
Lyrics:
Romaji
----------
Yo ~o ~~
Jugemu jugemu gokō no surikire
Kaijari suigyo no suigyō matsu unrai matsu fūrai matsu
Kūneru tokoro ni sumu tokoro!
Yaburakōji no burakōji
Paipo paipo paipo no Shuringan
Shuringan no guurindai
Guurindai no ponpokopi no ponpokona no
Choukyuumei cho・u・su・ke!
Choi to jikan itadakimasu
Goseichou kudasai, totonoimashita!
Waraou koto to kakemashita
Amatsuri yarou zo tokemasu
Sono kokoro wa, sono kokoro wa!
Dochira mo happi ni naru deshou~
Oato go yoroshii you de
Waraou waraou sa waraimashou
Konna jidai koso waraimashou
Waraou~(Soiya!Soiya!)
Naitara make de! Yakekuso waraimashou!
Haranbanjou sui mo amai mo
Norikoeta appare nipponjin
Waraou!
Donna toki demo, nanikuso waraimashou
Guwahhahha~ Guwahhahha~
Nyohhohho~ Nyohhohho~
Kuuki nante yomazu ni warattoke
Egao~ (Egao~)
Egao~ (Egao~)
[lyrics was taken from http://www.lyrics.my/artists/momoiro-clover-z/lyrics/nippon-egao-hyakkei-one-hundred-smiles-of-japan]
Warau kado ni wa fuku kitaru!
English
----------
Oi~~
Live long, live long and prosper
May great wealth await you wherever you go, even in different lands and under different skies
May you always have your daily bread!
And always be brimming full of life
Like the long-lived king Shuringan
And his dear wife Gurindai
And their children Ponpokopi and Ponpokona
Live a long and ble・ssed ・li・fe!
Let me have a bit of your time
Please listen carefully, we're ready!
You write it "laughing"
You read it "let's party"
And the point of that is, and the point of that is...
That everyone will be happy!
Thank you kindly for your attention
Laugh, laugh, hey, let's laugh
Life may be hard, but let's laugh
Laugh~ (Yeah! Yeah!)
If you cry, you loose! So just laugh until your sides ache!
Life may have its ups and downs
But the great Japanese can get over it
Laugh!
Whatever time may bring, laugh until you run out of breath
Ha ha ha~ Ha ha ha~
Bwa ha ha~ Bwa ha ha~
Who cares where you are? Just laugh
Smile~ (Smile~)
Smile~ (Smile~)
Smile and the world will smile back at you!}